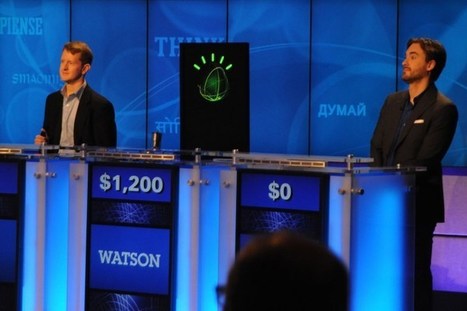 IBM has upped the ante in the API game by making its Watson question-answering system available as a service. That's right, Watson could soon power your smartphone app.
IBM didn't have to flaunt its debatable cloud dominance over Amazon Web Services on the sides of public buses if it wanted to upstage the cloud kingpin at its user conference this week — Big Blue could have just led with the news that its famous, Jeopardy!-champ-destroying Watson system is now available as a cloud service.
That's right: Developers who want to incorporate Watson's ability to understand natural language and provide answers need only have their applications make a REST API call to IBM's new Watson Developers Cloud. "It doesn't require that you understand anything about machine learning other than the need to provide training data," Rob High, IBM's CTO for Watson, said in a recent interview about the new platform.
More on the the details later, but first the big picture. If IBM actually delivers a workable cloud platform around Watson and developers actually take advantage of it to build new, smart applications.
IBM stands to make money from the Watson Developers Cloud but the primary goal is to create a large community of developers in the world of cognitive computing — "what we believe is the dominant form of computing in the future," High said. "We've come to the conclusion that this is too big and important to hold to our [ourselves]," he noted.
Indeed, IBM has been trying to grow the community and capabilities of cognitive computing, even beyond what Watson can do around understanding language. The company recently launched a university partnership that focuses on numerous aspects of cognitive computing, including the field of deep learning that is driving significant advances in computer vision and other facets of text analysis and natural language processing. And IBM has for years been mapping brains and working on microchips that mimic the brain's architecture.
The real beauty of these types of systems is not just in the intelligence of the computers, but also in how they affect the thought processes of people using them, High said. He noted an early Watson user who learned pretty quickly after using Watson that he had been asking the wrong questions of his data all along.
"When you get a very rapid response to our questions, we drive our level of concentration much more deeply," High explained. "And in concentrating more deeply, we think about things we haven't thought of before."