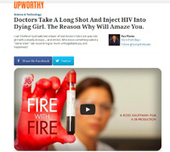 One child surviving 'incurable' cancer is an amazing event, but there is a lot more work to be done to find out how best to use this new technology. At the moment it's still highly experimental and expensive. It's only being trialled in a very small number of patients, primarily to make sure it is safe, and so far we've seen that it doesn't work for everyone.
In the case of the child whose cancer came back after treatment, the researchers found that her cancer cells had somehow stopped carrying the T cells' target molecule. So it's likely that other targets will need to be identified, to make the treatment more effective for more patients in the future.
On a positive note, there's no reason why this type of treatment should be restricted to cancers affecting the immune system (namely leukaemia and lymphoma), although they're much more accessible to the killer T cells. Researchers elsewhere are investigating how to target a range of different types of cancer with this approach.
There are several similar therapies being tested in the lab and in clinical trials around the world, including in the UK. And Cancer Research UK scientists are finding out whether harmless genetically-engineered viruses could be used as therapeutic vaccines, training the immune system to seek and destroy cancer cells.
It's still early days for these exciting new approaches and there are many hurdles to jump, but we're looking forward to the day when they can be used to treat patients on a wider scale.