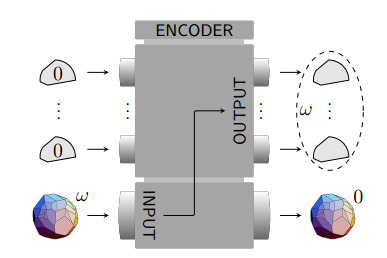 One of the great puzzles of quantum mechanics is that nobody quite understands what it means for reality to be quantum in nature.
Information and computation form the bedrock of the reality, say physicists who have used this idea to derive quantum mechanics.
Indeed, many physicists entirely disagree over the correct interpretation. The result is a frustratingly woolly insight into the nature of the Universe.
That's quite unlike other fundamental theories. General relativity, for example, produces remarkable insights into the nature of spacetime. And Noether's theorem—that every symmetry in the universe produces a conservation law—is one of the most satisfying and beautiful in science. Quantum mechanics, by contrast, is the poor relation.
The problem is that quantum mechanics has to be derived from abstract mathematical ideas that have little or no meaning in the real world. One common derivation, for example, uses the entirely abstract ideas of Hilbert spaces and the operators that act on them. So it's hardly surprising that the theory is hard to interpret.
Today, that changes thanks to the work of Lluís Masanes at the University of Bristol in the UK and a few buddies who for the first time derive quantum mechanics from ideas that have a clear basis in reality. Their derivation is based on the revolutionary idea that information and computation form the bedrock of reality.
In the new work, Masanes and co put forward four postulates about the Universe. If we accept these, they say, quantum mechanics naturally follows. What's more, their formulation solves an important question about reality—why the universe relies on quantum mechanics and not one of the numerous similar theories that physicists have recently discovered.