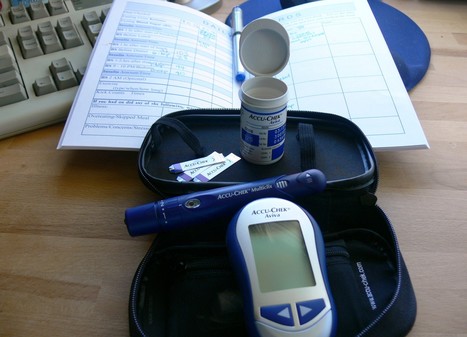 Hollow, one-nanometer-thick carbon nanotubes have drawn great interest as sensors. Led by postdoc Nicole Iverson, Strano's lab has built a sensor that can monitor NO in living animals for more than a year.

Strano's lab has recently developed carbon nanotube sensors for a variety of molecules, including hydrogen peroxide and toxic agents such as the nerve gas sarin. Such sensors take advantage of carbon nanotubes' natural fluorescence, by coupling them to a molecule that binds to a specific target. When the target is bound, the tubes' fluorescence brightens or dims.Strano's lab has previously shown that carbon nanotubes can detect NO if the tubes are wrapped in DNA with a particular sequence. In the new paper, the researchers modified the nanotubes to create two different types of sensors: one that can be injected into the bloodstream for short-term monitoring, and another that is embedded in a gel so it can be implanted long-term under the skin.
To make the particles injectable, Iverson attached PEG, a biocompatible polymer that inhibits particle-clumping in the bloodstream. She found that when injected into mice, the particles can flow through the lungs and heart without causing any damage. Most of the particles accumulate in the liver, where they can be used to monitor NO associated with inflammation.
"So far we have only looked at the liver, but we do see that it stays in the bloodstream and goes to kidneys. Potentially we could study all different areas of the body with this injectable nanoparticle," Iverson says. The longer-term sensor consists of nanotubes embedded in a gel made from alginate, a polymer found in algae. Once this gel is implanted under the skin of the mice, it stays in place and remains functional for 400 days; the researchers believe it could last even longer. This kind of sensor could be used to monitor cancer or other inflammatory diseases, or to detect immune reactions in patients with artificial hips or other implanted devices, according to the researchers.
Once the sensors are in the body, the researchers shine a near-infrared laser on them, producing a near-infrared fluorescent signal that can be read using an instrument that can tell the difference between nanotubes and other background fluorescence.
Iverson is now working on adapting the technology to detect glucose, by wrapping different kinds of molecules around the nanotubes. Most diabetic patients must prick their fingers several times a day to take blood glucose readings. While there are electrochemical glucose sensors available that can be attached to the skin, those sensors last only a week at most, and there is a risk of infection because the electrode pierces the skin.