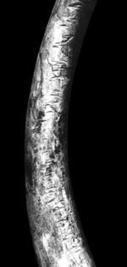 Our hardy ancestors survived north of the Arctic Circle as far back as the last ice age, unearthed tools now reveal. The mammoth hunters braved sub-zero temperatures on desolate tundra at least 20,000 years earlier than was thought, the remains suggest, although whether the people were Neanderthals or modern humans is a mystery.
The artefacts, dug up in an Arctic riverbed, show that humans once lived as far north as Siberia and Alaska, say archaeologist John Svendsen, of the University of Bergen in Norway, and his team1. The stone tools, horse and reindeer bones and a mammoth tusk with hand-made markings, were found at Mamontovaya Kurya in European Russia.
Radiocarbon dating puts the finds between 35,000 and 40,000 years old. Previously, humans were thought to have colonized this northern region in the last stages of the ice age only some 13,000 years ago.
The 40,000-year date "marks a turning point in the history of human evolution in Europe," says Svendsen's team. Around that time, roaming Neanderthals are thought to have given way to anatomically modern humans migrating northwards out of Africa and into Europe. The new haul does not reveal the identity of the Arctic dwellers to be either Neanderthal or modern.
Either way the result is exciting, says archaeologist John Gowlett of the University of Liverpool, UK. Either Neanderthals travelled further north than was thought, or modern humans moved and adjusted to northern extremes very quickly - within a few thousand years of leaving hotter climes.
Temperatures seem to have fluctuated markedly at that time, pushing populations north or south. Early modern humans may have followed herds of mammoths, wild horses or reindeer northwards during a warmer period, speculates Gowlett. During colder spells, freezing steppes extended as far south as Greece. "Humans had a hold on the north, if only for a short time," he says.
To survive at these latitudes, humans have to be well adapted, explains anthropologist Chris Stringer of the Natural History Museum in London. Temperatures fall to -40°C and there is 24-hour darkness for part of the year. "You've got to have clothing, housing and fire," he says. Eating meat and fat would have been important, as there are few plants. Cold-dwelling populations such as the Inuits also have physiological differences that make them more tolerant to the cold. Whereas modern humans are known for their ability to survive in extreme conditions, Neanderthals were thought to lack such skills. If the remains are Neanderthal, then "they were not a load of numbskulls," says Gowlett.
Our view of the historic landscape in which the hunters lived is also changing. The animal bones add to mounting evidence that this region of the Arctic, although cold, was not ice-bound 35,000 years ago. Instead, it probably consisted of open, grassy steppes.