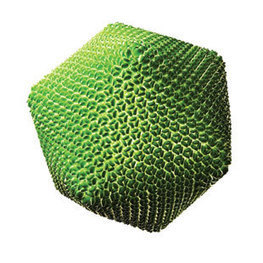 Viruses abound in the world's oceans, yet researchers are only beginning to understand how they affect life and chemistry from the water's surface to the sea floor.
There are an estimated 10E31 viruses on Earth. That is to say: there may be a hundred million times more viruses on Earth than there are stars in the universe. The majority of these viruses infect microbes, including bacteria, archaea, and microeukaryotes, all of which are vital players in the global fixation and cycling of key elements such as carbon, nitrogen, and phosphorus. These two facts combined—the sheer number of viruses and their intimate relationship with microbial life—suggest that viruses, too, play a critical role in the planet's biosphere.
Of all the Earth's biomes, the ocean has emerged as the source for major discoveries on the interaction of viruses with their microbial hosts. Ocean viruses were the inspiration for early hypotheses of the so-called "viral shunt," by which viral killing of microbial hosts redirects carbon and nutrients away from larger organisms and back toward other microorganisms. Furthermore, researchers analyzing oceanic life have discovered many novel viruses that defy much of the conventional wisdom about what a virus is and what a virus does.
Among these discoveries are "giant" marine viruses, with capsid cross-sections that can exceed 500 nm, an order of magnitude larger than prototypical viruses. Giant viruses infect eukaryotic hosts, including the protist Cafeteria and unicellular green algae. These viruses also carry genomes larger than nearly all previously identified viral types, in some cases upwards of 1 million base pairs. In both marine and nonmarine contexts, researchers have even identified viruses that can infect giant viruses, the so-called virophages, a modern biological example of Jonathan Swift's 17th-century aphorism: "a flea/ Hath smaller fleas that on him prey;/ And these have smaller fleas to bite 'em;/ And so proceed ad infinitum."
It is apparent that we still have much to learn about the rich and dynamic world of ocean microbes and viruses. For example, a liter of seawater collected in marine surface waters typically contains at least 10 billion microbes and 100 billion viruses—the vast majority of which remain unidentified and uncharacterized. Thankfully, there are an increasing number of high-throughput tools that facilitate the study of bacteriophages and other microbe-infecting viruses that cannot yet be cultured in the laboratory. Indeed, studying viruses in natural environments has recently gone mainstream with the advent of viral metagenomics, pioneered by Forest Rohwer and colleagues at San Diego State University in California.
More recently, culture-free methods have enabled insights into questions beyond that of characterizing viral diversity. For example, Matthew Sullivan's group at the University of Arizona and colleagues recently developed an adapted "viral tagging" method, by which researchers can now characterize the genotypes of environmental viruses that infect a host of interest, even if those viruses cannot be isolated in culture. These and other techniques—and the increasingly interdisciplinary study of environmental viruses—bring the scientific community ever closer to a clearer understanding of how viruses shape ocean ecology.