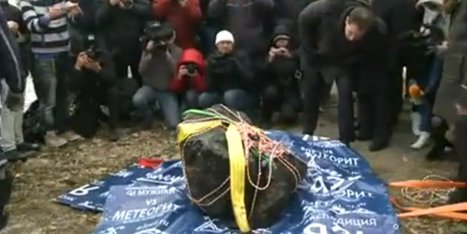 Russian scientists have recovered a giant chunk of the Chelyabinsk meteorite from the bottom of the lake it crashed into.
The meteor that blazed across southern Urals in February was the largest recorded strike in more than a century. More than 1,600 people were injured by the shock wave from the explosion as it hit near the city of Chelyabinsk, estimated to be as strong as 20 Hiroshima atomic bombs.
Scientists on Wednesday recovered what could be the largest part of the meteorite from Chebarkul Lake outside the city. They weighed it using a giant steelyard balance, which displayed 570 kilograms (1,256 pounds) before breaking.
It took Russian divers a month to successfully raise the rock and get it to land for weighing. Unfortunately the five-foot-long meteor fragment crushed the weighing scale upon which it had been placed and promptly broke into three separate pieces, but the remains weigh 570kg, Voice of Russia reports.
"Some peculiarities characteristic of stone meteorites prove that it's a fragment of the Chelyabinsk meteorite. In all probability, it will rank among the top ten largest meteorites ever found," said Sergei Zamozdra, professor of the Chelyabinsk State University.
The Chelyabinsk meteorite exploded over Lake Chebarkul and fragments punched their way through the ice layer on top. Scientists (and those looking to profit) have been busy diving all summer to try and find pieces of the estimated 10,000-ton rock.
More than a dozen stones have been raised but only four or five have been judged fragments of the one true rock. The largest confirmed sample was 11kg and the first data on its composition was published on Friday by Mikhail Marov, deputy head of the planetary research for the Russian Academy of Sciences.
"An analysis of Chelyabinsk meteorite fragments shows that its age practically coincides with that of the solar system, 4.56 billion years. In fact, we possess a rock from the times of genesis," Marov said during the Day of Space Science hosted by the Academy Space Research Institute.