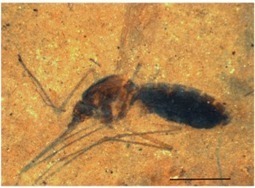 Through a series of events that scientists themselves admit was "extremely improbable," a mosquito that feasted on the blood of Eocene animals some 46 million years ago managed to die and become trapped in sediment, but remain in tact, all while carrying a belly full of blood — its last meal.
The result, recently discovered in some oil shale from northwestern Montana, is the first fossil of a mosquito found still engorged with ancient blood. According to the lead researcher of the study, Smithsonian Institution paleontologist Dale Greenwalt, this is only the fifth instance of blood-eating, or hematophagy, by any insect to be revealed in the fossil record, and it's the first in a mosquito with traces of blood that his team calls "incontrovertible."
Most fossils of blood-eating insects that have been found are of midges, a kind of biting fly, trapped in amber, the team points out. But since mosquitoes typically prefer open habitats near water, rather than forests full of sap-bearing trees, finding preserved remains of mosquitoes has been rare. Given all of these factors, Greenwalt's team writes, "it is not surprising that a fossil of a blood-engorged mosquito has not been described [before]; this despite the popular misconception of dinosaur DNA recovery from blood-engorged mosquitoes in amber popularized by the 1993 movie Jurassic Park."
Since they bring that up, it's worth pointing out that the mosquito fossil dates to the Middle Eocene, some 19 million years after non-avian dinosaurs went extinct. DNA molecules are too complex and fragile to survive fossilization, the team says, so it's impossible to tell what kind of animal the Montana mosquito took its final meal from.
But among the discoveries that this find has made possible is that other large molecules — like those large enough to denote the presence of blood — can still survive fossilization.
The team decided to investigate the fossil more closely after noticing the insect's dark, distended abdomen, appearing much like a modern mosquito after drinking a big blood meal. Tests of the abdomen revealed very high levels of iron ions, a mineral in which animal blood is rich.
So the team analyzed the sample using mass spectroscopy to get a more precise chemical makeup of the insect's gut contents. They found telltale organic compounds that are the "fingerprints" of a substance called heme, the molecule that allows hemoglobin in blood to carry oxygen, and that gives blood its red color.