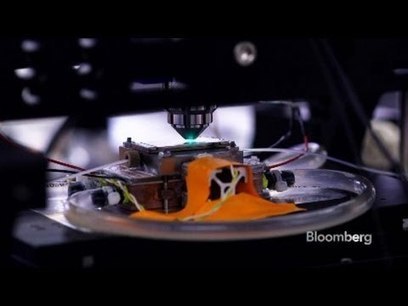 What if humans could make skin glow, enhance eyesight to super-human levels, render Mars habitable for colonization, or dramatically increase the mind's ability to tap its full potential? It would be a very strange world, indeed. But, that future world may not be so far away if Cambrian Genomics, a bio-hacking company started by Austen Heinz, has its way.
Right now it costs $2.2 billion to print human DNA. But Heinz says he's found a way to bio-hack on the cheap, which means the technology could spread democratically to the masses, instead of being concentrated in the hands of the rich and powerful.
In a recent Solve for X presentation titled "Democratizing Creation: 3D Printer for Living Things," Heinz discussed Cambrian Genomics' DNA printing process.
Heinz and his fellow researchers separate DNA strands from the microarray (biochips). They attach each strand to its very own bead, where they replicate it 100,000 times. Next, they attach the beads to a glass surface, and optically sequence them—one color for each of the four letters in a DNA sequence. In this way, they are able to read out the sequence, and pick those with the highest quality score.
Cambrian Genomics then uses a laser printer to retrieve the DNA sequences. Using laser light, Heinz is able to quickly read one billion strands; find and print the correct ones; and then insert them into cells. In this way, they create a "print button for biology."