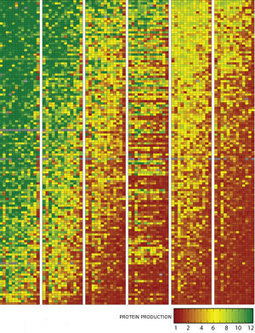 Scientists routinely seek to reprogram bacteria to produce proteins for drugs, biofuels and more, but they have struggled to get those bugs to follow orders. But a hidden feature of the genetic code, it turns out, could get bugs with the program. The feature controls how much of the desired protein bacteria produce, a team from the Wyss Institute for Biologically Inspired Engineering at Harvard University reported in the September 26 online issue of Science.
The findings could be a boon for biotechnologists, and they could help synthetic biologists reprogram bacteria to make new drugs and biological devices.
By combining high-speed "next-generation" DNA sequencing and DNA synthesis technologies, Sri Kosuri, Ph.D., a Wyss Institute staff scientist, George Church, Ph.D., a core faculty member at the Wyss Institute and professor of genetics at Harvard Medical School, and Daniel Goodman, a Wyss Institute graduate research fellow, found that using more rare words, or codons, near the start of a gene removes roadblocks to protein production.
"Now that we understand how rare codons control gene expression, we can better predict how to synthesize genes that make enzymes, drugs, or whatever you want to make in a cell," Kosuri said.
To produce a protein, a cell must first make working copies of the gene encoding it. These copies, called messenger RNA (mRNA), consist of a specific string of words, or codons. Each codon represents one of the 20 different amino acids that cells use to assemble proteins. But since the cell uses 61 codons to represent 20 amino acids, many codons have synonyms that represent the same amino acid.
In bacteria, as in books, some words are used more often than others, and molecular biologists have noticed over the last few years that rare codons appear more frequently near the start of a gene. What's more, genes whose opening sequences have more rare codons produce more protein than genes whose opening sequences do not.
No one knew for sure why rare codons had these effects, but many biologists suspected that they function as a highway on-ramp for ribosomes, the molecular machines that build proteins. According to this idea, called the codon ramp hypothesis, ribosomes wait on the on-ramp, then accelerate slowly along the mRNA highway, allowing the cell to make proteins with all deliberate speed. But without the on-ramp, the ribosomes gun it down the mRNA highway, then collide like bumper cars, causing traffic accidents that slow protein production. Other biologists suspected rare codons acted via different mechanisms. These include mRNA folding, which could create roadblocks for ribosomes that block the highway and slow protein production.