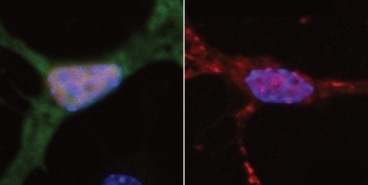 MIT neuroscientists have found new evidence that suggests that a failure to repair damaged DNA could underlie not only ALS, but also other neurodegenerative disorders such as Alzheimer's disease. These findings imply that drugs that bolster neurons' DNA-repair capacity could help ALS patients, says Li-Huei Tsai, director of MIT's Picower Institute for Learning and Memory and senior author of a paper describing the ALS findings in the Sept. 15, 2013 issue of Nature Neuroscience.
Neurons are some of the longest-living cells in the human body. While other cells are frequently replaced, our neurons are generally retained throughout our lifetimes. Consequently, neurons can accrue a lot of DNA damage and are especially vulnerable to its effects.

"Our genome is constantly under attack and DNA strand breaks are produced all the time. Fortunately, they are not a worry because we have the machinery to repair it right away. But if this repair machinery were to somehow become compromised, then it could be very devastating for neurons," Tsai says.
Tsai's group has been interested in understanding the importance of DNA repair in neurodegenerative processes for several years. In a study published in 2008, they reported that DNA double-strand breaks precede neuronal loss in a mouse model that undergoes Alzheimer's disease-like neurodegeneration and identified a protein, HDAC1, which prevents neuronal loss under these conditions.

HDAC1 is a histone deacetylase, an enzyme that regulates genes by modifying chromatin, which consists of DNA wrapped around a core of proteins called histones. HDAC1 activity normally causes DNA to wrap more tightly around histones, preventing gene expression. However, it turns out that cells, including neurons, also exploit HDAC1's ability to tighten up chromatin to stabilize broken DNA ends and promote their repair.
In a paper published earlier this year in Nature Neuroscience, Tsai's team reported that HDAC1 works cooperatively with another deacetylase called SIRT1 to repair DNA and prevent the accumulation of damage that could promote neurodegeneration.

When a neuron suffers double-strand breaks, SIRT1 migrates within seconds to the damaged sites, where it soon recruits HDAC1 and other repair factors. SIRT1 also stimulates the enzymatic activity of HDAC1, which allows the broken DNA ends to be resealed.

SIRT1 itself has recently gained notoriety as the protein that promotes longevity and protects against diseases including diabetes and Alzheimer's disease, and Tsai's group believes that its role in DNA repair contributes significantly to the protective effects of SIRT1.

In an attempt to further unveil other partners that work with HDAC1 to repair DNA, Tsai and colleagues stumbled upon a protein called Fused In Sarcoma (FUS). This finding was intriguing, Tsai says, because the FUS gene is one of the most common sites of mutations that cause inherited forms of ALS.

The MIT team found that FUS appears at the scene of DNA damage very rapidly, suggesting that FUS is orchestrating the repair response. One of its roles is to recruit HDAC1 to the DNA damage site. Without it, HDAC1 does not appear and the necessary repair does not occur. Tsai believes that FUS may also be involved in sensing when DNA damage has occurred.
At least 50 mutations in the FUS gene have been found to cause ALS. The majority of these mutations occur in two sections of the FUS protein. The MIT team mapped the interactions between FUS and HDAC1 and found that these same two sections of the FUS protein bind to HDAC1.

They also generated four FUS mutants that are most commonly seen in ALS patients. When they replaced the normal FUS with these mutants, they found that the interaction with HDAC1 was impaired and DNA damage was significantly increased. This suggests that those mutations prevent FUS from recruiting HDAC1 when DNA damage occurs, allowing damage to accumulate and eventually leading to ALS.