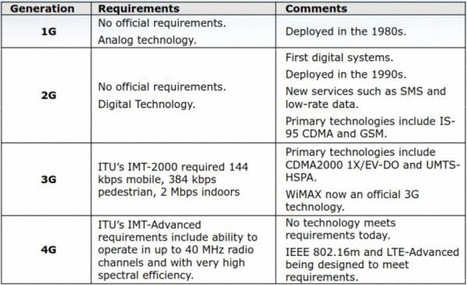 The global bandwidth shortage facing wireless carriers has motivated the exploration of the underutilized millimeter wave (mm-wave) frequency spectrum for future broadband cellular communication networks. There is, however, little knowledge about cellular mm-wave propagation in densely populated indoor and outdoor environments. Obtaining this information is vital for the design and operation of future fifth generation cellular networks that use the mm-wave spectrum. In this paper, we present the motivation for new mm-wave cellular systems, methodology, and hardware for measurements and offer a variety of measurement results that show 28 and 38 GHz frequencies can be used when employing steerable directional antennas at base stations and mobile devices.
First generation cellular networks were basic analog systems designed for voice communications. A move to early data services and improved spectral efficiency was realized in 2G systems through the use of digital modulations and time division or code division multiple access. 3G introduced high-speed Internet access, highly improved video and audio streaming capabilities by using technologies such as Wideband Code Division Multiple Access (W-CDMA) and High Speed Packet Access (HSPA). HSPA is an amalgamation of two mobile telephony protocols, High Speed Downlink Packet Access (HSDPA) and High Speed Uplink Packet Access (HSUPA), which extends and improves the performance of existing 3G mobile telecommunication networks utilizing WCDMA protocols. An improved 3GPP (3rd Generation Partnership Project) standard, Evolved HSPA (also known as HSPA+), was released in late 2008 with subsequent worldwide utilization beginning in 2010. HSPA has been deployed in over 150 countries by more than 350 communications service providers (CSP) on multiple frequency bands and is now the most extensively sold radio technology worldwide, although LTE is closing the gap rapidly.
The International Mobile Telecommunications-Advanced (IMT-Advanced) standard is the next-generation of mobile communications technology defined by the ITU and includes capabilities outstripping those of IMT-2000 (3G) mobile communication. ITU refers to IMT-Advanced as a 4G mobile communications technology, although it should be noted that there is no universally accepted definition of the term 4G. LTE radio access technology has been developed by the 3GPP to offer a fully 4G-capable mobile broadband platform. LTE is an orthogonal frequency-division multiplexing (OFDM)-based radio access technology that supports a scalable transmission bandwidth up to 20 MHz and advanced multi-antenna transmission. As a key technology in supporting high data rates in 4G systems, Multiple-Input Multiple-Output (MIMO) enables multi-stream transmission for high spectrum efficiency, improved link quality, and adaptation of radiation patterns for signal gain and interference mitigation via adaptive beam-forming using antenna arrays. The coalescence of HSPA and LTE will increase the peak mobile data rates of the two systems, with data rates exceeding 100 Mbps, and will also allow for optimal dynamic load balancing between the two technologies.
As the demand for capacity in mobile broadband communications increases dramatically every year, wireless carriers must be prepared to support up to a thousand-fold increase in total mobile traffic by 2020, requiring researchers to seek greater capacity and to find new wireless spectrum beyond the 4G standard. To improve the existing LTE network, the wireless technology roadmap now extends to IMT-Advanced with LTE-Advanced defined to meet IMT-Advanced requirements, which will be theoretically capable of peak throughput rates that exceed 1 Gigabit per second (Gbps). LTE-Advanced supports heterogeneous networks with co-existing large macro, micro, and pico cells, and Wi-Fi access points. Low cost deployment will be realized by self-organizing features and repeaters/relays.
As fifth generation (5G) is developed and implemented, we believe the main differences compared to 4G will be the use of much greater spectrum allocations at untapped mm-wave frequency bands, highly directional beam-forming antennas at both the mobile device and base station, longer battery life, lower outage probability, much higher bit rates in larger portions of the coverage area, lower infrastructure costs, and higher aggregate capacity for many simultaneous users in both licensed and unlicensed spectrum (e.g., the convergence of Wi-Fi and cellular). The backbone networks of 5G will move from copper and fiber to mm-wave wireless connections, allowing rapid deployment and mesh-like connectivity with cooperation between base stations.