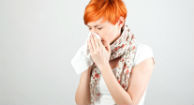 A blood test developed by Duke University researchers will help doctors learn whether a patient's infection is caused by a virus or bacteria.
The Duke test can recognize a specific genetic fingerprint that the body expresses when it's sick.
In the most recent experiment, 102 subjects with viral and bacterial infections, as well as healthy control patients, arrived at a hospital emergency room and were given the blood test. With about 90 percent accuracy, the test returned the proper diagnosis in just 12 hours.
Dr. Geoffrey S. Ginsburg, also of Duke's Genome Institute, told Healthline that the test results were confirmed using traditional lab tests, which take much longer and are far more labor-intensive. "It was really outstanding from our perspective having an assay [test] that performed so robustly in a real-world setting."
In larger studies set to begin as early as this flu season, scientists will look at ways of paring down the number of genes the test analyzes and reducing the test's turnaround time to as little as one hour. "We'd love to have the pregnancy test equivalent to viral infections," Ginsburg said.
Woods, Ginsburg, and others have filed for a provisional patent on the science behind the test. Their experiment was funded in part by the Defense Advance Research Project Agency (DARPA), an arm of the U.S. Department of Defense.
Many of the infectious samples the team used to develop the test came from the global H1N1 pandemic of 2009. Many H1N1 sufferers were not quickly diagnosed and treated, which allowed the disease to spread to even more individuals.
In addition to the early detection of naturally occurring global pandemics, the authors believe their test could also help the U.S. respond to a bioterrorism attack. "This could help screen people for exposure, perhaps even before they have fully developed symptoms," Ginsburg said. "We hope it's an application, if it ever comes to that."