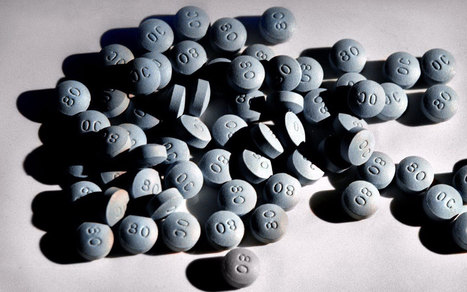 Fatal overdoses have reached epidemic levels, exceeding those from heroin and cocaine combined, according to the CDC. Prescriptions for painkillers in the United States have nearly tripled in the past two decades and fatal overdoses reached epidemic levels, exceeding those from heroin and cocaine combined, according to the Centers for Disease Control and Prevention (CDC).
At the same time, the first-ever global analysis of illicit drug abuse published this month by The Lancet, a British medical journal, found that addictions to heroine and popular painkillers, including Vicodin and OxyContin, kill the most people and cause the greatest health burden, compared to illicit drugs such as marijuana and cocaine.
High-income nations, such as the United States, United Kingdom and Australia, had the highest rates of abuse, 20 times greater than in the least impacted countries, according to The Lancet study.

In the United States, enough painkillers were prescribed in 2010 to medicate every American adult around-the-clock for one month.
Dr. Andrew Kolodny, president of Physicians for Responsible Opioid Prescribing, told Al Jazeera that the United States is facing a dangerous epidemic of overdoses and addictions related to painkillers. "According to the CDC, this is the worst drug epidemic in U.S. history," he said. "CDC has data demonstrating that around the same time doctors began aggressively prescribing these medications in the late 1990s, there have been parallel increases in rates of addiction."
The Food and Drug Administration (FDA), Kolodny said, is "failing miserably" at curbing the epidemic.
"The way to turn this epidemic around is for doctors to prescribe painkillers more cautiously," he said. But that can only happen, Kolodny said, when the FDA changes labeling requirements for painkillers, "making it easier for medical schools and the larger medical community to prescribe these meds more cautiously." He called current FDA-approved labeling "very broad," because the drugs have no suggested maximum dose nor suggested duration of use.
Kolodny is part of a group of health officials who signed a citizens' petition (PDF) in 2012 urging the FDA to change labeling requirements on how and when doctors should prescribe painkillers. The group called on the FDA to limit the drugs' approved use to those suffering from "severe" pain, as opposed to the current FDA-approved standard of "moderate to severe pain."
FDA spokeswoman Morgan Liscinsky, however, said that prescription painkillers are an important component of modern pain management. The FDA, she said, is working to balance the dual responsibility of addressing misuse, abuse and addiction with continuing to ensure appropriate access to effective pain management for patients who need these medications.
The FDA "is extremely concerned about the inappropriate use" of painkillers, she said, "which has become a major public health challenge for our nation," and the agency "is committed to ongoing efforts to address the problem and supports broader initiatives to address this public health problem, including regulatory, educational and scientific activities."