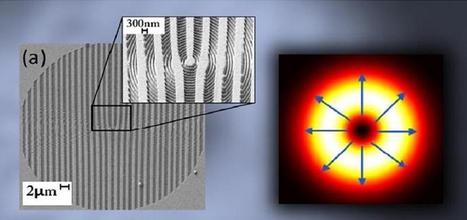 Applied physicists at the Harvard School of Engineering and Applied Sciences (SEAS) have demonstrated that they can change the intensity, phase, and polarization of light rays using a hologram-like design decorated with nanoscale structures.
As a proof of principle, the researchers have used it to create an unusual state of light called a radially polarized beam, which—because it can be focused very tightly—is important for applications like high-resolution lithography and for trapping and manipulating tiny particles like viruses.
This is the first time a single, simple device has been designed to control these three major properties of light at once. (Phase describes how two waves interfere to either strengthen or cancel each other, depending on how their crests and troughs overlap; polarization describes the direction of light vibrations; and the intensity is the brightness.)
"Our lab works on using nanotechnology to play with light," says Patrice Genevet, a research associate at Harvard SEAS and co-lead author of a paper published this month in Nano Letters. "In this research, we've used holography in a novel way, incorporating cutting-edge nanotechnology in the form of subwavelength structures at a scale of just tens of nanometers." One nanometer equals one billionth of a meter.
Genevet works in the laboratory of Federico Capasso, Robert L. Wallace Professor of Applied Physics and Vinton Hayes Senior Research Fellow in Electrical Engineering at Harvard SEAS. Capasso's research group in recent years has focused on nanophotonics—the manipulation of light at the nanometer scale—with the goal of creating new light beams and special effects that arise from the interaction of light with nanostructured materials.