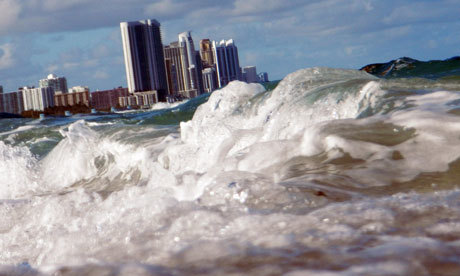 More than 1,700 American cities and towns – including Boston, New York, and Miami – are at greater risk from rising sea levels than previously feared, a new study has found.
By 2100, the future of at least part of these 1,700 locations will be "locked in" by greenhouse gas emissions built up in the atmosphere, theanalysis published in the Proceedings of the National Academy of Sciences on Monday found. For nearly 80 US cities, the watery future will come much sooner, within the next decade even.
The survey does not specify a date by which these cities, or parts of them, would actually fall under water. Instead, it specifies a "locked-in" date, by which time a future under water would be certain – a point of no return.
Because of the inertia built into the climate system, even if all carbon emissions stopped immediately, it would take some time for the related global temperature rises to ease off. That means the fate of some cities is already sealed, the study says.
"Even if we could just stop global emissions tomorrow on a dime, Fort Lauderdale, Miami Gardens, Hoboken, New Jersey will be under sea level," said Benjamin Strauss, a researcher at Climate Central, and author of the paper. Dramatic cuts in emissions – much greater than Barack Obama and other world leaders have so far agreed – could save nearly 1,000 of those towns, by averting the sea-level rise, the study found.
"Hundreds of American cities are already locked into watery futures and we are growing that group very rapidly," Strauss said. "We are locking in hundreds more as we continue to emit carbon into the atmosphere."
A recent study, also published in PNAS by the climate scientist Anders Levermann found each 1C rise in atmospheric warming would lead eventually to 2.3m of sea-level rise. The latest study takes those figures, and factors in the current rate of carbon emissions, as well as the best estimate of global temperature sensitivity to pollution.
For the study, a location was deemed "under threat" if 25% of its current population lives below the locked-in future high-tide level. Some 1,700 places are at risk in this definition. Even if bar is set higher, at 50% of the current population, 1,400 places would be under threat by 2100.