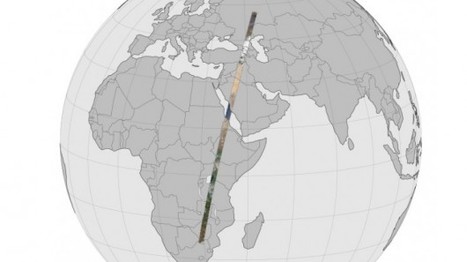 NASA has captured the world's largest panoramic photo showing a swath of land 6,000 miles long and 120 miles wide using a satellite orbiting 438 miles (705 km) above the Earth. At 19.06 gigapixels, "The Long Swath" is far from the highest resolution panorama on record, falling well short of the320 gigapixel panorama of London, but it is without question the longest, covering an area from northern Russia to South Africa.
Revealing the immense diversity of climates on our planet's surface, the composite image is made up of 56 still images taken during the Landsat Data Continuity Mission (LCDM) satellite's orbit on April 19, 2013.
Strategically photographed so as not to contain large areas of boring water, the resolution is between 15 and 100 meters depending on the light band used. NASA's LDCM scanned the surface of the Earth while traveling at over 17,000 miles per hour (27,359 km/h), which allowed it to take the shots in just 20 minutes.
Launched as a joint mission of NASA and the US Geological Survey (USGS) on February 11, 2013, the LDCM's key mission objectives are to monitor human expansion, rural agricultural production and the state of infrastructure to aid in urban planning, disaster recovery and energy and water management.
The LDCM takes measurements in the visible, near infrared and short wave infrared portions of the spectrum using the Operational Land Imager (OLI), which captures images with 49 ft (15 m) panchromatic and 98 ft (30 m) multi-spectral spatial resolutions along a 115 mile (185 km) wide swath. This allows it to cover wide areas of the Earth's surface at sufficient resolution to distinguish features like urban centers, farms, forests and other land uses. The entire Earth will fall within view once every 16 days due to the LDCM's near-polar orbit.