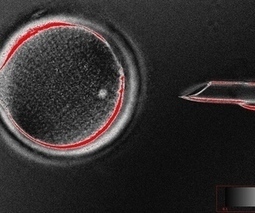 An international team of scientists announced today that for the first time ever, they were able to create new human stem cells by cloning older, fully mature human cells. The process cannot be used to create full human clones, as the scientists involved were quick to point out, but it does allow for cells to be grown to fit specific functions within an individual's body — resulting in new, patient-specific liver cells or heart cells that actually pulse on their own, for example.
Eventually, scientists hope to refine the process to the point it could be used to help treat disease and even create whole custom organs, but that is likely to be several years away at the earliest. "While there is much work to be done in developing safe and effective stem cell treatments, we believe this is a significant step forward in developing the cells that could be used in regenerative medicine," said Shoukhrat Mitalipov, the leader of the research team and a senior scientist at the Oregon National Primate Research Center (ONPRC), in a news release.
The research team was led by scientists at the Oregon Health & Science University, who used a technique similar to the one that created Dolly the sheep, the first mammal cloned from adult cells, back in 1996. In a basic sense, this method involves taking an adult cell from a patient's body, sucking out the central portion containing DNA (the nucleus), then injecting this material into an empty egg cell donated by another human volunteer. The genetic material from the adult cell tells the empty egg cell what type it should mature into.