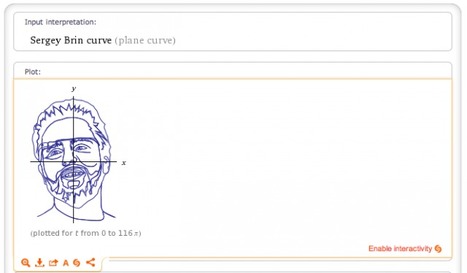 Wolfram Alpha collects famous faces into functions: Obama, 2pac, Sergey Brin.
A post on StackExchange from a couple of months ago inquired how to create the line drawings in the style that Wolfram Alpha has curated. Some debate ensued about whether the equations that produced the drawings were handwritten, but one commenter, Simon Woods, described a way to produce the curves.
Woods' method, adapted from another comment by Rahul Narain, involves reverse engineering the curves using Wolfram's Mathematica by converting an image to grayscale, extracting the contours, and plotting the curve using a function "tocurve" that takes the line, a number of modes, and "symbolic parameter t" that parameterizes the line. The "Fourier" function in Mathematica will approximate the line with sinusoids, and the "Rationalize" function converts all the numbers to rational to produce equations that look similar to WolframAlpha's collection.
This procedure would cover one closed-line element of a drawing, but many of the portraits on WolframAlpha have multiple elements (for instance, the color in Barack Obama's hair, or Adele's eyes, or Alexander Graham Bell's beard). But once you have all that, drawing Sergey Brin wearing a set of Google Glasses is extremely easy.