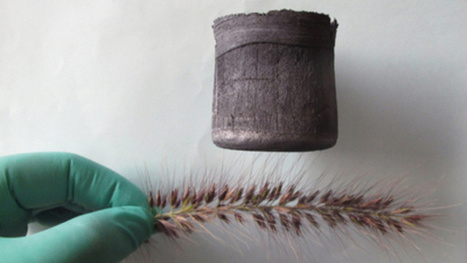 Scientists have just unveiled the lightest human-made substance on Earth. How light are we talking? Let's put it this way: it's less dense than helium.
The battle for rights to the title of world's lightest material (technically world's lowest density material) has played out like a brutally rapid series of monarchal overthrows. For years, NASA's aerogel (density 1 milligram per cubic centimeter) held the title of lightest material on Earth. In November 2011, it was dethroned by a gorgeous, ultralight metallic microlattice (density 0.9 mg/cm3). Months later, a substance called "Aerographite" with a density of just 0.2 mg/cm3 blew both of these ultralight materials out of the water. Now, a new material has assumed the throne.
In a Nature paper titled "Solid carbon, springy and light," scientists from Zhejiang University in Hangzhou, China have introduced a graphene aerogel that comes in at just 0.16 milligrams per cubic centimeter. As a point of reference, that's less than one-seventh the density of air. And while it's still twice as dense as hydrogen, it's the very first ultralight substance to achieve a mass-to-volume ratio less than helium's, 0.1786 mg/cm3. What's more, it's got some killer real-world applications.
The new material is amazingly absorptive, able to suck in up to 900 times its own weight in oil at a rate of 68.8 grams per second — only oil, not water, which means it has massive potential as a cleaning material when it comes to events such as oil spills.