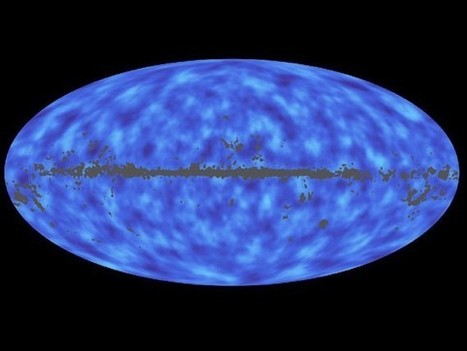 The light from the early Universe shows it's not smooth. If you crank the contrast way up you see slightly brighter and slightly dimmer spots. These correspond to changes in temperature of the Universe on a scale of 1 part in 100,000. That's incredibly small, but has profound implications. We think those fluctuations were imprinted on the Universe when it was only a trillionth of a trillionth of a second old, and they grew with the Universe as it expanded. They were also the seeds of the galaxies and the clusters and galaxies we see today.
What started out as quantum fluctuations when the Universe was smaller than a proton have now grown to be the largest structures in the cosmos, hundreds of millions of light years across. Let that settle in your brain a moment.
And those fluctuations are the key to Planck's observations. By looking at those small changes in light we can find out a lot about the Universe. Scientists spent years looking at the Planck data, analyzing it. And what they found is pretty amazing:
The Universe is 13.82 billion years old.The Universe is expanding a bit slower than we expected.The Universe is 4.9 percent normal matter, 26.8 percent dark matter, and 68.3 percent dark energy.The Universe is lopsided. Just a bit, just a hint, but that has profound implications.
Normal matter is what we call protons, neutrons, electrons; basically everything you see when you look around. Stars, cashews, dryer lint, and books are all made of normal matter. So are you.
Dark matter is a substance we know exists, but it's invisible. We see its effects through its gravity, which profoundly alters how galaxies rotate and clusters of galaxies behave. There's more than five times as much of it as there is normal matter.
Dark energy was only discovered in 1998. It's very mysterious, but acts like a pressure, increasing the expansion rate of the Universe. We know very little about it other than the fact that it exists, and it's a bigger component of the universal budget than normal and dark matter combined.
The best estimates for these numbers before Planck were a bit different: 4.6, 24, and 71.4 percent, respectively. That's neat: there's less dark energy than we thought, so the Universe is made up a little bit less of that weird stuff, if that makes you feel better. But there's still a lot of it!
The good news is that having better numbers for all these means astronomers can tune their models a little bit better, and we can understand things a little better. Different models of how the Universe behaves predict different ratios for these ingredients, so getting them focused a bit better means we can see which models work better. We're learning!