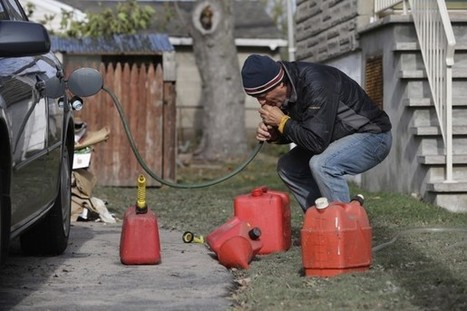 A new report from the National Academy of Sciences shows how it can be done, but no single technology or policy will get us there.
Those are audacious goals. But if the United States ever plans to deal seriously with climate change, the transportation sector will have to change drastically. And the National Academy of Sciences report concludes that no one single policy or technology will do the trick.
Case in point: In the past few years, the Obama administration has enacted a series of ambitious corporate average fuel economy standards that will require new cars to get around 54.5 miles per gallon by 2025. (That will translate into about 35.4 miles per gallon on the road.) That sounds impressive, but the NAS study concludes that current standards aren't enough to hit even that 2030 goal for oil use.
In fact, the report argues, it's tough to find any single technology that can cut oil use in half by 2030 on its own. Making conventional cars more efficient won't do it. A major push on electric vehicles won't do it. The only things likely to work are a massive switch over to natural-gas vehicles (which would, in turn, make it much harder to hit the greenhouse-gas goals) or a combination of efficiency, electric vehicles, and advanced biofuels.
What the NAS is doing here is estimating the impact of each technology "if it is pursued vigorously." And it found that each technology, on its own, has some promising upsides and some limitations. Better efficiency, for instance: The report found that there's enormous potential to make conventional gasoline vehicles more efficient, from engine and drivetrain improvements to lighter vehicles. Over the past few years, automakers have started adopting many of these tactics, such as gasoline direct injection. The NAS report estimates that conventional cars could realistically average 74 miles per gallon in 2050 and hybrids 94 mpg.