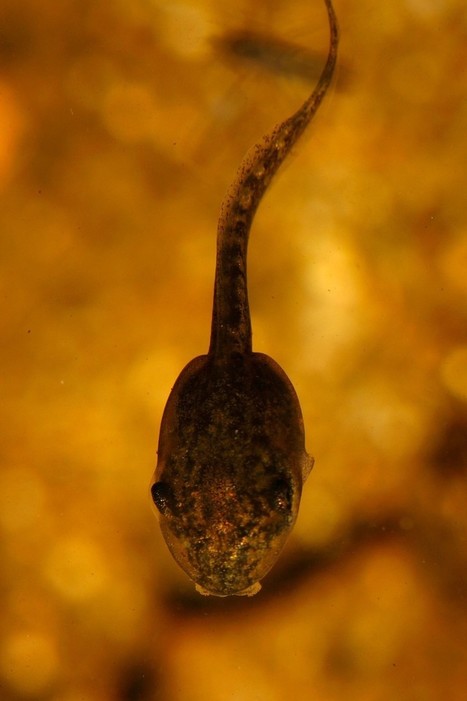 Recently, we have witnessed remarkable, fictional-sounding advancements in science and medicine. Using embryos from the African clawed frog (Xenopus laevis), scientists at Tufts' Center for Regenerative and Developmental Biology were able to transplant eye primordia—cells that will eventually grow into an eye—from one tadpole's head to another's posterior, flank, or tail. They didn't connect nerve endings or "wiring" or anything like that. They just cut out the cells from the head, slice open the side or the tail, and jam them in.
As the eyes grow, they send out nerve fibesr, or axons. We know this because the "tissue donor" tadpoles were labeled with tdTomato, a red fluorescent protein. This allowed the researchers to watch innervation, or nerve growth, as it happened. Of those eye primordia that sent out axons, nearly half hardwired directly into the spine, while the other half built connections to the nearby stomach. None of the tadpoles grew tdTomato-marked pathways to the brain, however.
Before they could test the ectopic eyes for functionality, the native ones had to be severed and removed. Otherwise, how would the scientists know which of the tadpole's three eyes was truly seeing? Finally, it was time to put the aberrant eyes to the test. Using an underwater arena rigged with blue and red LEDs and electric shock, scientists ran through an exhaustive array of controls and variables. Interestingly, the tadpoles with no eyes at all could still react to LED changes, revealing that they may have other ways of sensing light. However, they proved woefully inadequate at avoiding electro shocks, showing whatever information they were getting was ultimately flawed or unusable. On the other end of the spectrum were the control tadpoles with normal eyes that quickly learned to avoid the shocks through the scientists' regimen of aversive conditioning. Amazingly, a statistically significant portion of the transplanted one eye tadpoles could not only detect LED changes, but they showed learning behavior when confronted with electric shock. Though eyes have been placed on or near rat brains in previous studies with success, this result marked the first time a vertebrate eye has been able to send visual information to the brain without a direct connection—and from as far away as the other end of the organism.
Obviously, many questions remain. For instance, how does the brain know information coming up the spine from the tail is visual? It should have no idea what that aberrant eye is blinking about—and yet it seems to take the information in stride. The paper suggests perhaps different types of data are somehow marked, not altogether different from the way we demarcate files and commands in a computer.
Ahead lies everything from better computer brain interfaces to bioengineered organ systems. If we can understand the limits of the brain's plasticity, we might be able to one day create cybernetic devices that don't just do what we program, but discover on their own what is required.