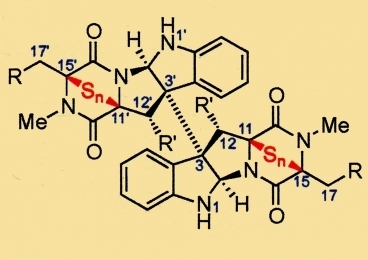 Study of several dozen compounds based on a fungal chemical shows potent anti-tumor activity.
Inspired by a chemical that fungi secrete to defend their territory, MIT chemists have synthesized and tested several dozen compounds that may hold promise as potential cancer drugs.

A few years ago, MIT researchers led by associate professor of chemistry Mohammad Movassaghi became the first to chemically synthesize 11,11'-dideoxyverticillin, a highly complex fungal compound that has shown anti-cancer activity in previous studies. This and related compounds naturally occur in such small amounts that it has been difficult to do a comprehensive study of the relationship between the compound's structure and its activity — research that could aid drug development, Movassaghi says.

"There's a lot of data out there, very exciting data, but one thing we were interested in doing is taking a large panel of these compounds, and for the first time, evaluating them in a uniform manner," Movassaghi says.

In the new study, recently published online in the journal Chemical Science, Movassaghi and colleagues at MIT and the University of Illinois at Urbana-Champaign (UIUC) designed and tested 60 compounds for their ability to kill human cancer cells.

"What was particularly exciting to us was to see, across various cancer cell lines, that some of them are quite potent," Movassaghi says. Larry Overman, a professor of chemistry at the University of California at Irvine, says the new study is an impressive advance. "Movassaghi and coworkers reveal for the first time a number of relationships between the chemical structure of molecules in the ETP series and their in-vitro anti-cancer activity," says Overman, who was not part of the research team. "Knowledge of this type will be essential for the future development of ETP-type molecules into attractive clinical candidates and potential novel anti-cancer drugs."

Now that they have some initial data, the researchers can use their findings to design additional compounds that might be even more effective. "We can go in with far greater precision and test the hypotheses we're developing in terms of what portions of the molecules are most significant at retaining or enhancing biological activity," Movassaghi says.