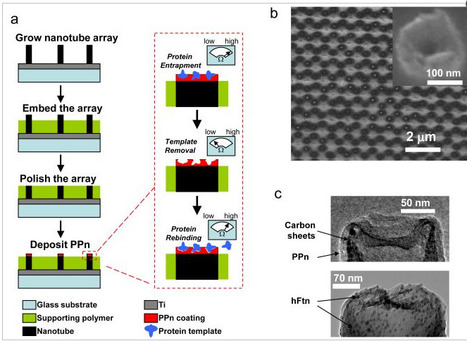 Molecular imprinting (MI) is a technique for preparing polymer scaffolds that function as synthetic receptors, and imprinted polymers that can selectively recognize organic compounds have been proven useful for sensor development. Although creating synthetic MI polymers (MIPs) that recognize proteins remains challenging, nanodevices and nanomaterials show promise for protein recognition into sensor architectures. Arrays of carbon nanotube (nanotube) tips imprinted with a non-conducting polymer coating can be used to recognize proteins with subpicogram per liter sensitivity using electrochemical impedance spectroscopy. Specific MI sensors for human ferritin and human papillomavirus derived E7 protein were developed by one research group. The MI-based nanosensor can also discriminate between Ca2+-induced conformational changes in calmodulin. This ultrasensitive, label-free electrochemical detection of proteins offers an alternative to biosensors based on biomolecule recognition.
MI technology offers considerable potential as a cost-effective alternative to the use of biomolecule-based recognition in a variety of sensor applications. MIPs afford the creation of specific recognition sites in synthetic polymers by a process that involves co-polymerization of functional monomers and cross-linkers around template molecules. The molecules are removed from the polymer, rendering complementary binding sites capable of subsequent template molecule recognition. Although deposition of MIPs onto the surface of nanostructures may improve sensitivity for recognition of a range of organic compounds, electronic nanosensors capable of recognizing proteins continue to be a challenge to implement, in part, because: 1) the MIP film may attenuate signals generated in response to template binding (due to the large thickness); 2) the detection mechanisms do not readily allow for effective signal conversion of template molecule binding; and 3) the sensor platforms do not support highly sensitive detection.
In conclusion, these types of nanosensors should prove highly useful in diagnosis of human disease, such as detection of cancer biomarkers, and in a host of proteomic applications.