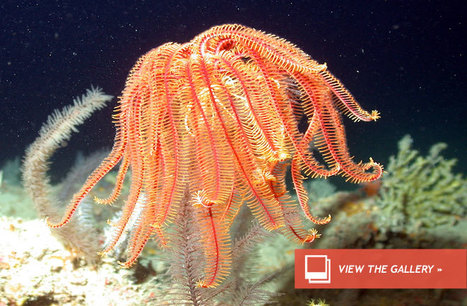 "Living" molecules, meaning intact cellular structures that haven't fossilized, were recently retrieved from 350-million-year-old remains of aquatic sea creatures uncovered in Ohio, Indiana, and Iowa, according to a study that will appear in the March issue of the journal Geology.
The animals- crinoids- were spindly and had feathered arms. Their relatives today are called by the plant-like name "sea lily."
The retrieved molecules are quinones, which function as pigments or toxins (to help ward off predators) and are still found in modern sea lilies. The molecules aren't DNA, unfortunately, but they can reveal other things about past life, such as the color of long gone animals.
"There are lots of fragmented biological molecules — we call them biomarkers — scattered in the rock everywhere," William Ausich, professor in the School of Earth Sciences at Ohio State and co-author of the paper, said in a press release. "They're the remains of ancient plant and animal life, all broken up and mixed together. But this is the oldest example where anyone has found biomarkers inside a particular complete fossil. We can say with confidence that these organic molecules came from the individual animals whose remains we tested."
The ultra ancient crinoids appear to have been buried alive in storms during the Carboniferous Period. At that time, North America was covered with vast inland seas. The skeletal remains of the buried-alive crinoids filled with minerals over time, but some of the pores containing organic molecules were miraculously sealed intact.