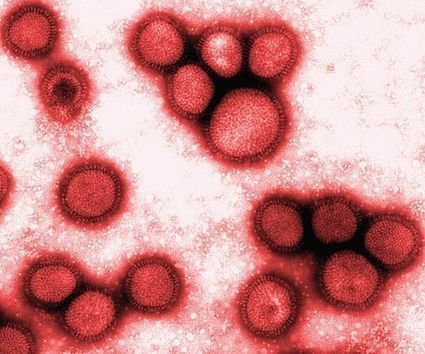 Viruses are by far the most abundant 'lifeforms' in the oceans and are the reservoir of most of the genetic diversity in the sea. The estimated 10E30 viruses in the ocean, if stretched end to end, would span farther than the nearest 60 galaxies. Every second, approximately 10E23 viral infections occur in the ocean. These infections are a major source of mortality, and cause disease in a range of organisms, from shrimp to whales. As a result, viruses influence the composition of marine communities and are a major force behind biogeochemical cycles. Each infection has the potential to introduce new genetic information into an organism or progeny virus, thereby driving the evolution of both host and viral assemblages. Probing this vast reservoir of genetic and biological diversity continues to yield exciting discoveries.
Over tens, hundreds and millions years, our ancestors have been picking up retroviruses (HIV is a retrovirus) that reproduce by taking their genetic material and inserting it into our own chromosomes. There are probably about 100,000 elements in the human genome that you can trace to a virus ancestor. They make up about 8 percent of our genome, and genes that encode proteins only make up 1.2 percent of our genome making us more virus than human.
Occasionally, a retrovirus will end up in a sperm cell or an egg and insert its genes there, which then may give rise to a new organism, a new animal, a new person where every cell in that body has got that virus.
Nature: http://tinyurl.com/abmjhtf