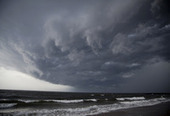 Each year, hundreds of millions of metric tons of dust, water, and human-made pollutants make their way into the atmosphere, often traveling between continents on jet streams. Now a new study confirms that some microbes make the trip with them, seeding the skies with billions of bacteria and other organisms—and potentially affecting the weather. What's more, some of these high-flying organisms may actually be able to feed while traveling through the clouds, forming an active ecosystem high above the surface of the Earth.
The discovery came about when a team of scientists based at the Georgia Institute of Technology in Atlanta hitched a ride on nine NASA airplane flights aimed at studying hurricanes. Previous studies carried out at the tops of mountains hinted that researchers were likely to find microorganisms at high altitudes, but no one had ever attempted to catalog the microscopic life floating above the oceans—let alone during raging tropical storms. After all, it isn't easy to take air samples while your plane is flying through a hurricane.
Despite the technical challenges, the researchers managed to collect thousands upon thousands of airborne microorganisms floating in the troposphere about 10 kilometers over the Caribbean, as well as the continental United States and the coast of California. Studying their genes back on Earth, the scientists counted an average of 5100 bacterial cells per cubic meter of air. Although the researchers also captured various types of fungal cells, the bacteria were over two orders of magnitude more abundant in their samples. Well over 60% of all the microbes collected were still alive.
The researchers cataloged a total of 314 different families of bacteria in their samples. Because the type of genetic analysis they used didn't allow them to identify precise species, it's not clear if any of the bugs they found are pathogens. Still, the scientists offer the somewhat reassuring news that bacteria associated with human and animal feces only showed up in the air samples taken after Hurricanes Karl and Earl. In fact, these storms seemed to kick up a wide variety of microbes, especially from populated areas, that don't normally make it to the troposphere.
Although many of the organisms borne aloft are likely occasional visitors to the upper troposphere, 17 types of bacteria turned up in every sample. Researchers like environmental microbiologist and co-author Kostas Konstantinidis suspect that these microbes may have evolved to survive for weeks in the sky, perhaps as a way to travel from place to place and spread their genes across the globe. "Not everybody makes it up there," he says. "It's only a few that have something unique about their cells" that allows them survive the trip.