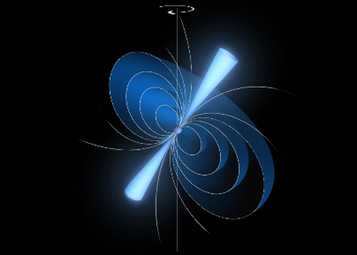 Pulsars — tiny spinning stars, heavier than the sun and smaller than a city — have puzzled scientists since they were discovered in 1967.
Now, new observations by an international team, including University of Vermont astrophysicist Joanna Rankin, make these bizarre stars even more puzzling.
Like the universe's most powerful lighthouses, pulsars shine beams of radio waves and other radiation for trillions of miles. As these highly magnetized neutron stars rapidly rotate, a pair of beams sweeps by, appearing as flashes or pulses in telescopes on Earth.
Using a satellite X-ray telescope, coordinated with two radio telescopes on the ground, the team observed a pulsar that was previously known to flip on and off every few hours between strong (or "bright") radio emissions and weak (or "quiet") radio emissions.
Monitoring simultaneously in X-rays and radio waves, the team revealed that this pulsar exhibits the same behavior, but in reverse, when observed at X-ray wavelengths.
This is the first time that a switching X-ray emission has been detected from a pulsar. Flipping between these two extreme states — one dominated by X-ray pulses, the other by a highly organized pattern of radio pulses — "was very surprising," says Rankin.
"As well as brightening in the X-rays we discovered that the X-ray emission also shows pulses, something not seen when the radio emission is bright," said Rankin, who spearheaded the radio observations. "This was completely unexpected."
No current model of pulsars is able to explain this switching behavior. All theories to date suggest that X-ray emissions would follow radio emissions. Instead, the new observations show the opposite. "The basic physics of a pulsar have never been solved," Rankin says.