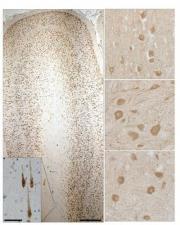 So often the rare informs the common. Penn researchers investigating a regulatory protein involved in a rare genetic disease have shown that it may be related to epileptic and autistic symptoms in other more common neurological disorders.
A team of researchers from the University of Pennsylvania School of Medicine, led by Peter B. Crino, MD, PhD, associate professor of Neurology and director of the Penn Epilepsy Center, demonstrate how mutations in the STRAD-alpha gene can cause a disease called PMSE (polyhydramnios, megalencephaly, and symptomatic epilepsy) syndrome, found in a handful of Amish children. PMSE is characterized by an abnormally large brain, cognitive disability, and severe, treatment-resistant epilepsy. Specifically, in an animal model, they found that the lack of the STRAD-alpha protein due to genetic mutations causes activation of the signaling pathway involving another protein called mTOR. In humans, this in turn may promote abnormal cell growth and cognitive problems in the developing brains of children. STRAD-alpha and mTOR proteins are part of a complex molecular network implicated in other, more common neurological disorders, many of which have autism-like symptoms as a component. "The identification of a new gene that regulates mTOR provides fascinating insights into how mTOR pathway dysfunction may be associated with neurological disorders," says Crino. "Each new mTOR regulatory protein that is identified provides a new possible therapeutic target for drug development and treatment."
The mTOR pathway normally controls cell growth, but in PMSE uncontrolled mTOR signaling leads to increases in brain size and areas in which the cerebral cortex is malformed. To prove this, the researchers knocked down the activity of the STRAD-alpha protein in a mouse model and caused malformations of the developing brain. The structure of these malformations was similar to what is seen in human PMSE and TSC and supports the conclusion that normal brain development in part depends on normal STRAD-alpha function. Localized brain malformations are among the most common causes of epilepsy and neurological disability in children.