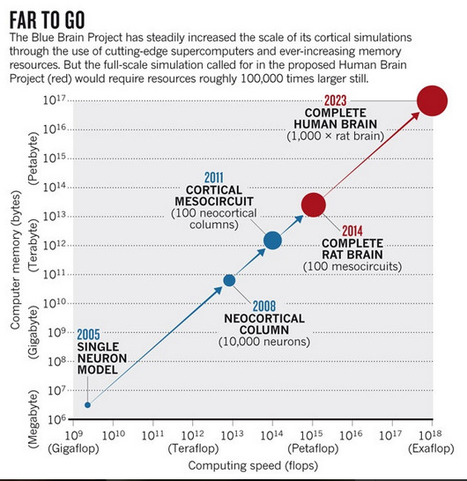 Henry Markram wants €1 billion to model the entire human brain. Sceptics don't think he should get it.
Markram's ambitions fit perfectly with those of Patrick Aebischer, a neuroscientist who became president of the EPFL in 2000 and wanted to make the university a powerhouse in both computation and biomedical research. Markram was one of his first recruits, in 2002. "Henry gave us an excuse to buy a Blue Gene," says Aebischer, referring to a then-new IBM supercomputer optimized for large-scale simulations. One was installed at the EPFL in 2005, allowing Markram to launch the Blue Brain Project: his first experiment in integrative neuroscience and, in retrospect, a prototype for the HBP.
Part of the project has been a demonstration of what a unifying model might mean, says Markram, who started with a data set on the rat cortex that he and his students had been accumulating since the 1990s. It included results from some 20,000 experiments in many labs, he says — "data on about every cell type that we had come across, the morphology, the reconstruction in three dimensions, the electrical properties, the synaptic communication, where the synapses are located, the way the synapses behave, even genetic data about what genes are expressed".
By the end of 2005, his team had integrated all the relevant portions of this data set into a single-neuron model. By 2008, the researchers had linked about 10,000 such models into a simulation of a tube-shaped piece of cortex known as a cortical column. Now, using a more advanced version of Blue Gene, they have simulated 100 interconnected columns.
The effort has yielded some discoveries, says Markram, such as the as-yet unpublished statistical distribution of synapses in a column. But its real achievement has been to prove that unifying models can, as promised, serve as repositories for data on cortical structure and function. Indeed, most of the team's efforts have gone into creating "the huge ecosystem of infrastructure and software" required to make Blue Brain useful to every neuroscientist, says Markram. This includes automatic tools for turning data into simulations, and informatics tools such as http://channelpedia.net — a user-editable website that automatically collates structural data on ion channels from publications in the PubMed database, and currently incorporates some 180,000 abstracts.
The ultimate goal was always to integrate data across the entire brain, says Markram. The opportunity to approach that scale finally arose in December 2009, when the European Union announced that it was prepared to pour some €1 billion into each of two high-risk, but potentially transformational, Flagship projects. Markram, who had been part of the 27-member advisory group that endorsed the initiative, lost no time in organizing his own entry. And in May 2011, the HBP was named as one of six candidates that would receive seed money and prepare a full-scale proposal, due in May 2012.