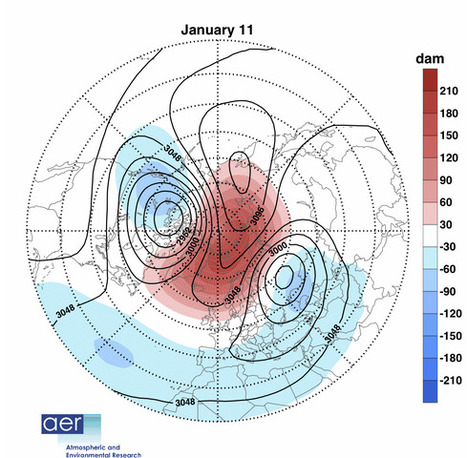 An unusual event playing out high in the atmosphere above the Arctic Circle is setting the stage for what could be weeks upon weeks of frigid cold across wide swaths of the U.S.
When the sudden stratospheric warming event began in early January, that signaled to weather forecasters that a cool down was more likely to occur by the end of the month, since it usually takes many days for developments in the stratosphere to affect weather in the troposphere, and vice versa. As the polar stratosphere warms, high pressure builds over the Arctic, causing the polar jet stream to weaken. At the same time, the midlatitude jet stream strengthens, while also becoming wavier, with deeper troughs and ridges corresponding to more intense storms and high pressure areas. In fact, sudden stratospheric warming events even make so-called "blocked" weather patterns more likely to occur, which tilts the odds in favor of the development of winter storms in the U.S. and Europe.
The graph shows the evolution of the stratospheric warming event. The contours show absolute heights and the shading are height anomalies in the middle stratosphere, or about 16 miles above the surface. The height anomalies are a good proxy for temperature anomalies in the stratosphere with red representing high heights or warm temperatures and blue low heights or cold temperatures. You can see at the beginning of the loop a cohesive polar vortex along the coast of Northern Eurasia and then this area of higher heights or warm temperaturs rush poleward from Siberia into the polar vortex splitting it into two pieces, one over Eurasia and one over North America. The dramatic rise in heights or temperatures over the Pole is the sudden stratospheric warming. The result is that pieces of the polar vortex move equatorward and with it the associated cold temperatures. Usually something similar occurs in the troposphere in the ensuing weeks.