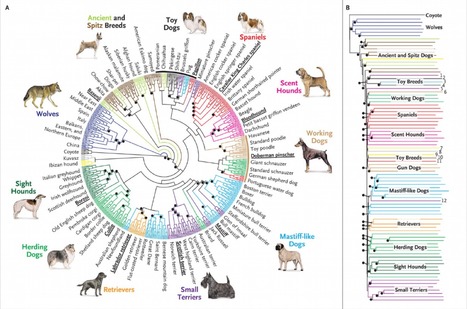 In 2001, two independent draft versions of the human genome sequence and the concomitant identification of approximately 30,000 genes were the seminal events that defined completion of the Human Genome Project.The genome was officially declared to be finished in 2004, with sequencing reported to include 99% of transcribing DNA. By comparison, the genome of the domestic dog, Canis lupus familiaris, was sequenced twice, once to 1.5× density (i.e., covering the genome, in theory, 1.5 times) and once to 7.8× density (providing sequencing for more than 95% of base pairs) in the standard poodle and boxer, respectively. Subsequent contributions to the canine genome have focused on better annotation to locate missing genes, understanding chromosome structure, studying linkage disequilibrium,
identifying copy-number variants, and mapping the transcriptome.
The use of the canine genome to understand the genetic underpinning of disorders that are difficult to disentangle in humans has been on the rise for nearly two decades. The reason relates back to the domestication of dogs from gray wolves (C. lupus), an event that began at least 30,000 years ago. Since their domestication, dogs have undergone continual artificial selection at varying levels of intensity, leading to the development of isolated populations or breeds. Many breeds were developed during Victorian times and have been in existence for only a few hundred years, a drop in the evolutionary bucket. Most breeds are descended from small numbers of founders and feature so-called popular sires (dogs that have performed well at dog shows and therefore sire a large number of litters). Thus, the genetic character of such founders is overrepresented in the population. These facts, coupled with breeding programs that exert strong selection for particular physical traits, mean that recessive diseases are common in purebred dogs, and many breeds are at increased risk for specific disorders. We, and others, have chosen to take advantage of this fact in order to identify genes of interest for human and canine health.
Via
Daniel House