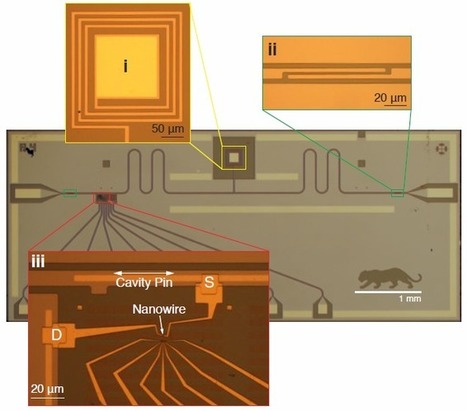 A team led by Princeton's Associate Professor of Physics Jason Petta has developed a new method that could eventually allow engineers to build a working quantum computer consisting of millions of quantum bits (qubits), based on a hybrid dual-quantum dot/superconducting resonator device .
To make the quantum dots, the team isolated a pair of electrons on a small section of material called a "semiconductor nanowire." Basically, that means a wire that is so thin that it can hold electrons like soda bubbles in a straw. They then created small "cages" along the wire. The cages are set up so that electrons will settle into a particular cage depending on their energy level.
This is how the Princeton team reads the spin state: electrons of similar spin will repel, while those of different spins will attract. So the team manipulates the electrons to a certain energy level and then reads their position. If they are in the same cage, they are spinning differently; if they are in different cages, the spins are the same. The second step is to place this quantum dot inside the microwave channel, allowing the team to transfer the information about the pair's spin state — the qubit.
Petta said the next step is to increase the reliability of the setup for a single electron pair. After that, the team plans to add more quantum dots to create more qubits. Team members are cautiously optimistic. There appear to be no insurmountable problems at this point but, as with any system, increasing complexity could lead to unforeseen difficulties.
"The methods we are using here are scalable, and we would like to use them in a larger system," Petta said. "But to make use of the scaling, it needs to work a little better. The first step is to make better mirrors for the microwave cavity."
Original article: http://tinyurl.com/9o698k9