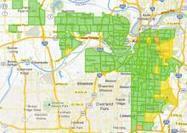 After years in the making, Google announced today that it has started connecting people in Kansas City, Kan., to its ultra high-speed fiber-to-the-home Internet service. Acting as guinea pigs of sorts, these locals will be the first people in the world who get to test out Google's new service and decide whether it lives up to the hype.
When Google first announced its nationwide Google Fiber project in 2010, around 1,100 U.S. towns and cities applied to get in on the deal. When Kansas City won out, Google Access General Manager Kevin Lo said, "new high-speed infrastructure will ultimately be carrying Kansas Citians' data at speeds more than 100 times faster than what most Americans have today."

Now, as the service officially kicks off, Google is making sure that its customers know what to expect. The company's representatives are going door-to-door letting people know their service is on the way and how the installation will work.