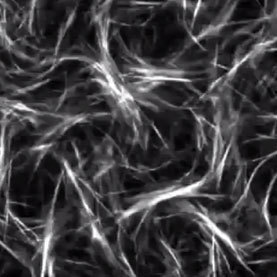 The gel droplets mimic the molecular motors inside living cells.
Using biological building blocks found inside a living cell, researchers have created a material that moves itself. The researchers first made a gel comprising microtubules — stiff polymer filaments that, in living cells, act as guiding tracks for kinesin, a 'motor protein' that is propelled along the microtubule cables by the cellular fuel ATP. "It's like a tyre," says Zvonimir Dogic, a physicist at Brandeis University in Waltham, Massachusetts, who led the study. Adding a small polymer to the mix encouraged the microtubules to form bundles and create a moving network. Water droplets containing this gel move continuously — in an oil emulsion and on flat surfaces — without external force, the researchers found.
Each molecule of ATP propels a kinesin molecule 8 nanometers forward along the microtubule track. With thousands of kinesins rumbling along multiple microtubules, a droplet that is 100 micrometers across spontaneously begins rolling when it touches a flat surface. "It's a startling advance because of the macro-scale movement that it produces," says Raymond Goldstein, a biological physicist at the University of Cambridge, UK.