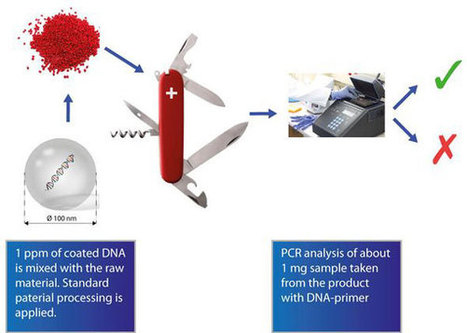 DNA-based protection technologies are especially suitable for anti-counterfeiting measures. Genuine-ID, a Swiss start-up company, has developed state-of-the-art security products based on DNA code which they call the Genuine-ID product passport.
Here is how it works: The DNA molecules are added a products raw material during the production process. Only 1 ppm (one part per million) is required to uniquely mark the material. That is one gram per one ton of raw material. Therefore there material properties remain unchanged. No extra production steps are required.
The DNA molecules are encapsulated in a silicon dioxide microparticle in order to protect them from the harsh conditions during production and the product life cycle. These microparticles are nothing other than very small glass balls with a diameter of about 100 nm. In the case of the Genuine-ID product passport, a 64-digit code-length is used. The number of possible combinations is therefore 4x4x4....x4 and that 64 times. Mathematically that is written as: 464 = 3.4E38. That is 34 followed by 37 zeroes. A copy of every unique DNA code that is added to a product – the so called DNA primer – is kept as a sample in a safe deposit at a Swiss bank. For security reasons, no electronic version of the DNA-sequence is stored.
In the case of a sample test inquiry, a very small probe (1 mg) is taken from the product and paired with the original DNA primer for a PCR (polymerase chain reaction) test. Only when the DNA code from the two samples are a perfect match will the test result be positive.

The analysis lasts about 2 hours. Many probes can be analyzed simultaneously. The PCR analysis is a proven and established DNA analysis method which is used for blood tests (HIV-test, etc.) and paternity tests. The result is unique and 100% certain.