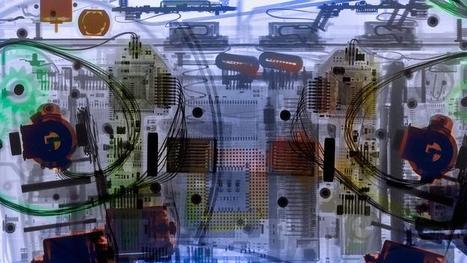 It has become routine for engineers to draw inspiration from the animal kingdom when designing mobile robots. There are now machines that run like cheetahs, fly like hummingbirds, and swim like zebrafish. So it's not surprising that when a team of British and American scientists joined forces to build a robot that wriggles through water, they decided to use the sea lamprey, a primitive eel-like fish, as a model.
But this lamprey-inspired bot won't merely be another animal-mimicking machine. Instead, it will be a "biohybrid", a simulated sea lamprey that integrates electronic components with living animal cells. The project team hopes to create a tiny swimming machine, just a millimetre in length, that can respond to environmental cues – navigating using ambient light and following the trail of a chemical compound through the water, for instance. The micro-robot, dubbed "Cyberplasm," could then perform hazardous underwater tasks, such as looking for submerged mines, and explore worlds inaccessible to humans.
"The idea is to build a part biological, part machine robot," says Daniel Frankel, a chemical engineer at Newcastle University and one of the lead scientists for the project. "We're going to do that using genetic engineering – we're changing the way the cells work so they can be read by electronics." This ambitious project, which began in 2009 aims to build a swimming robot with cells that have been genetically engineered to act like eyes, cells that detect chemicals, and muscles that contract, says Frankel. "All of these components will eventually work together like an artificial organism."
Frankel's job is to design the light- and chemical-sensitive cells that will act as Cyberplasm's "eyes" and "nose". To engineer the eye sensors, Frankel started with a supply of Chinese hamster ovary cells, which are commonly used in biological and medical research. Then they modified these cells by inserting a gene that makes plants responsive to light. They linked this plant DNA with another gene – common in mammalian cells –which produces nitric oxide, a gas that acts as an important signaling molecule in the body. These genetic manipulations produced hamster cells that are light-responsive; whenever light hits the cells, they respond by producing a hit of nitric oxide.
Frankel is now using the same approach to build the robot's chemical sensors, working with Christopher Voigt, a biological engineer at MIT, to engineer hamster cells that give off nitric oxide in the presence of certain chemical compounds.
The release of nitric oxide will allow the modified mammalian cells to communicate with Cyberplasm's electronic "brain". When the researchers assemble the final robot, they'll implant a nitric-oxide-sensitive electrode near the genetically engineered cells. And whenever the electrode detects a nitric oxide plume, it will send a signal to a microprocessor, which will then coordinate the robot's movement.