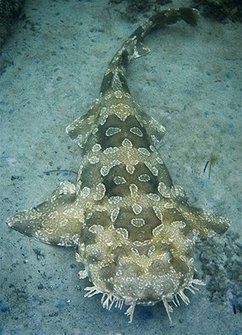 Sharks are color blind, a new molecular study by Australian scientists has confirmed, filling a gap in our knowledge about the evolution of color vision. Previous studies looked at opsins, which are light-sensitive proteins found in the photoreceptor cells of the retina. Rod opsins are used in low light and produce a black and white image, while cone opsins are used in bright light, and often to see colors. Two or more different types of cone opsins are needed for color vision. While some ray species - close relatives of sharks - have multiple cone opsins as well as rods, studies in various shark species suggested they had only a single cone visual pigment.
To check whether this really was the case, Dr Susan Theiss, from the University of Queensland, and colleagues isolated the visual opsin genes from two wobbegong shark species: the spotted wobbegong Orectolobus maculatus and the ornate wobbegong O. ornatus. Their findings confirm that wobbegongs possess only one cone opsin, meaning they see the world in shades of grey.
It is known that the earliest vertebrates already had color vision, but it has been lost by some groups over the course of evolution. Today most fish have color vision, however, it has been lost in many large aquatic predators including sharks, whales, seals and dolphins. Sharks rely on different senses depending on distance, with vision being important when they are closing in on prey, navigating, avoiding predators and finding mates.