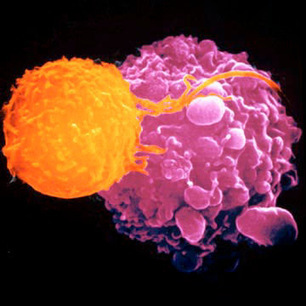 The human immune system weakens with the passing of time, thus making us more susceptible to cancer and infectious diseases. This aging also affects the ability of our organism to take advantage of vaccination. A new study conducted by scientists at the Stanford University School of Medicine shows that if a certain protein is blocked, the response of the cells to vaccines and other atingens like cancer or microbial antigens can be restored. The levels of this particular protein increase with age.

Doctor Jorg Goronzy, a professor of rheumatology and the lead author of the paper says that this discovery is very important for long-term therapies. He added that in the near future the possibility of countering the effects of aging on our immune system might be achievable through pharmacology.

The research team discovered a protein, named DUSP6 (Dual specificity phosphatase 6), that impedes the capacity of an entire class of immune cells, thus preventing them from interacting with foreign bodies or substances. These substances include pathogens and vaccines. Another finding was that of a possible compound that is able to restore the responsiveness of the immune cells back to normal, once the DUSP6 protein is inhibited.

Dr Goronzy says that the human immune system decades with aging, starting from around the age of 40. Goronzy added that even though almost 90% of adults below the age of 40 respond to vaccines, the rate of responsiveness drops to almost 40% after the age of 60. An example of poor responsiveness in older patients is that of influenza deaths, most of which are registered in patients older than 65.