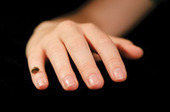 In a stunning technical feat, an international team of scientists has sequenced the genome of an archaic Siberian girl 31 times over, using a new method that amplifies single strands of DNA. The sequencing is so complete that researchers have as sharp a picture of this ancient genome as they would of a living person's, revealing, for example that the girl had brown eyes, hair, and skin. "No one thought we would have an archaic human genome of such quality," says Matthias Meyer, a postdoc at the Max Planck Institute for Evolutionary Anthropology in Leipzig, Germany. "Everyone was shocked by the counts. That includes me."
That precision allows the team to compare the nuclear genome of this girl, who lived in Siberia's Denisova Cave more than 50,000 years ago, directly to the genomes of living people, producing a "near-complete" catalog of the small number of genetic changes that make us different from the Denisovans, who were close relatives of Neandertals. "This is the genetic recipe for being a modern human," says team leader Svante Pääbo, a paleogeneticist at the institute.
Ironically, this high-resolution genome means that the Denisovans, who are represented in the fossil record by only one tiny finger bone and two teeth, are much better known genetically than any other ancient human—including Neandertals, of which there are hundreds of specimens. The team confirms that the Denisovans interbred with the ancestors of some living humans and found that Denisovans had little genetic diversity, suggesting that their small population waned further as populations of modern humans expanded. "Meyer and the consortium have set up the field of ancient DNA to be revolutionized—again," says Beth Shapiro, an evolutionary biologist at the University of California, Santa Cruz, who was not part of the team. Evolutionary geneticist Sarah Tishkoff of the University of Pennsylvania agrees: "It's really going to move the field forward."