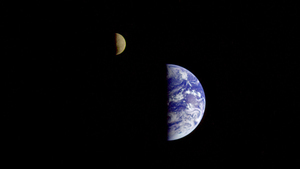 Our lives are based on conventions that seem rock solid when they aren't, at least in comparison with cosmic time-scales. The duration of a day changes in time, determined by the gyrations of the Earth-Moon pair.
Today, the most obvious effect of this attraction is the tides, two high and two low a day. (The Sun also plays a role in the tides, but we will leave it aside.) Actually, the tidal effect varies with the cube of the distance, which means that in the past tides were positively huge. Very roughly, if the distance decreases by a factor of 6, as simulations estimate was the case when the moon was forming, the tidal force increases by a factor of 216. In practice things probably weren't as dramatic, but it is fair to estimate that billions of years ago tides could have reached many hundreds of feet. The Earth's crust, being then much more malleable, would heave periodically by as much as 200 feet. As the Moon moved away from the Earth (currently at about 4 centimeters per year), the tides gradually quieted down.
This enormous tidal effect caused (and still causes) a drag in the Earth-moon system, dissipating much of its rotational energy. As a consequence, the moon's spinning slowed down so that its rotation rate is the same as the time it takes to go once around the Earth—and that's why we only see one side of the Moon—while the Earth's spinning diminished considerably: days were shorter in the past.
People often wonder if time has been in a hurry as of late. The answer is no: a minute is a minute, and will remain such for as long as we stick with the sexagesimal system for hours, minutes and seconds. What does change, however, is the duration of a day, even if absurdly slowly for human standards. As of now, a day becomes longer by about 1.7 milliseconds per century. At this rate, half a billion years ago a day lasted a bit over 22 hours and one year had 397 days.