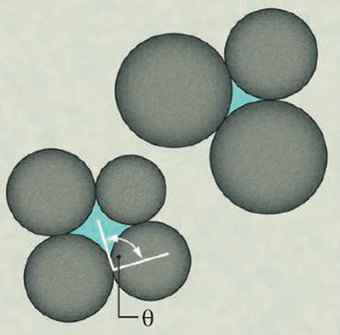 Tiny amount of water can turn a liquid suspension into a gel.
Scientists in Germany have shown that a suspension of particles can be transformed from a viscous fluid to an elastic gel by adding a small quantity of a second liquid – as long as the second liquid does not mix with the bulk fluid. They say that the second liquid binds the particles more tightly together, and found that this enhanced binding takes place even when the liquid itself adheres poorly to the particles. Applications of this work, say the researchers, include lighter and cheaper foams as well as improved manufacturing of paints and other suspensions.
Being able to control the flow of suspensions – small, solid particles dispersed in a fluid – is important in the manufacture of many commercial products, such as coatings and foodstuffs. For example, it is better if paint is less viscous when it is being mixed during production, but more viscous when in its finished state so that it sticks to walls and does not drip.
In the latest research Erin Koos and Norbert Willenbacher of the Karlsruhe Institute of Technology have demonstrated a new and practical method for adjusting the viscosity of a suspension. In their experiment, they first dispersed hydrophilic (or water-attracting) glass beads, each about 25 µm in diameter, into an organic solvent. Then they added water to this suspension so that it made up just 1% of the suspension by weight. When they stirred, the initially viscous fluid transformed into a gel-like material.