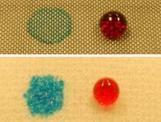 Oil and water's disdain for each other is legendary, but once forced to comingle they're nearly impossible to separate. Now scientists have developed a specialized filter that cleanly separates the two, allowing water to pass through and leaving oil behind. Such filters could prove useful for cleaning up oil spills or cleaning water at treatment plants.
Oil and water both stick to their own, staying on opposite sides of the room at a molecular cocktail party. But add a chemical called a surfactant — molecules that are partly attracted to water and partly attracted to oil — and you've got a social lubricant that forces water and oil to mingle. Once this socializing happens, it's difficult to undo.
One way to get them apart is with a filtering membrane coated with water-hating molecules — such membranes allow oil through, but not water. Think of a nonstick Teflon pan, says materials scientist Anish Tuteja, who led the new work. Oil moves smoothly across such surfaces but water beads up. But these filters require energy to force stuff through them, and they often become fouled after a few hours. Also, water is denser than oil, so it can sit on top of such filters, making it harder for oil to get through.
The new membrane is the opposite of Teflon, allowing water to pass through it, but not oil. And it works with gravity alone.