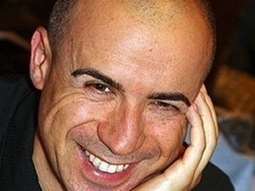 Ever imagine you'd see $27 million in physics prizes awarded in one fell swoop? Me neither. Reportedly, Alan Guth was likewise "knocked off his feet" after receiving one of nine inaugural Fundamental Physics Prizes (FPP)—and watching his bank account warp from $200 to $3,000,200. But maybe we shouldn't be too shocked. Other tech entrepreneurs have likewise recently reached into their pockets to reward achievement too. And that's good news. Such funding should accelerate the scientific and technological discoveries we hope will one day revolutionize human health and ability.

Yuri Milner, the FPP's founder, is a Russian entrepreneur, Silicon Valley investor, billionaire, and two-time dropout (once while pursuing an advanced degree in physics and later just a few credits short of a Wharton MBA). He transformed earnings from his first enterprise in macaroni into ownership of Russian internet firm, Mail.ru, and later stakes in a grabbag of US social media. Because Milner made his first fortune in the post-Soviet capitalist free-for-all and has since stormed Silicon Valley—he is a bit of a controversial figure. Not unlike the founder of that "other" prize, Alfred Nobel, who made his money in explosives. Yet, also like Nobel, Milner seems to have an idealistic streak. After Wired requested to do a profile on him, he asked, "What is the statement I want to make? It is an opportunity to take a position on a global scale."

The FPP seems to fit that sentiment and is being compared to the Nobel Prize. But if it's to be categorized, the FPP should also be compared to the X Prize and other Silicon Valley philanthropy upending how we reward achievement.