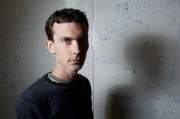 Interactive proofs — mathematical games that underlie much modern cryptography — work even if players try to use quantum information to cheat.
Interactive proofs, which MIT researchers helped pioneer, have emerged as one of the major research topics in theoretical computer science. In the classic interactive proof, a questioner with limited computational power tries to extract reliable information from a computationally powerful but unreliable respondent. Interactive proofs are the basis of cryptographic systems now in wide use, but for computer scientists, they're just as important for the insight they provide into the complexity of computational problems.
Twenty years ago, researchers showed that if the questioner in an interactive proof is able to query multiple omniscient respondents — which are unable to communicate with each other — it can extract information much more efficiently than it could from a single respondent. As quantum computing became a more popular research topic, however, computer scientists began to wonder whether such multiple-respondent — or "multiprover" — systems would still work if the respondents were able to perform measurements on physical particles that were "entangled," meaning that their quantum properties were dependent on each other.
At the IEEE Symposium on Foundations of Computer Science in October, Thomas Vidick, a postdoc at MIT's Computer Science and Artificial Intelligence Laboratory, and Tsuyoshi Ito, a researcher at NEC Labs in Princeton, N.J., finally answer that question: Yes, there are multiprover interactive proofs that hold up against entangled respondents. That answer is good news for cryptographers, but it's bad news for quantum physicists, because it proves that there's no easy way to devise experiments that illustrate the differences between classical and quantum physical systems.