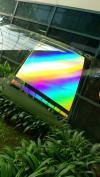 Scientists from A*STAR's Institute of Materials Research and Engineering (IMRE) will partner with companies to develop, prototype and conduct pilot large scale manufacturing of nanoimprinted materials with better performance and at potentially lower cost than current production methods.
Fast, high-volume production of plastics with specially engineered surfaces will soon be available using a cheaper and simpler method. IMRE and its Industrial Consortium On Nanoimprint (ICON) partner companies are piloting roll-to-roll nanoimprint technology to mass produce two types of patterned nanoimprinted plastic films.
These are films with low reflectivity and better viewing angles, as well as durable, scratch-resistant films with 'self-cleaning' surfaces. This technology can be more cost effective than conventional batch production as ICON uses roll-to-roll processing, which enables the continuous, high throughput production of such materials on a large scale. Potential applications of such mass-produced anti-reflective films are in the mobile device and tablet markets while the self-cleaning plastics can be applied to surfaces such as walls of buildings.