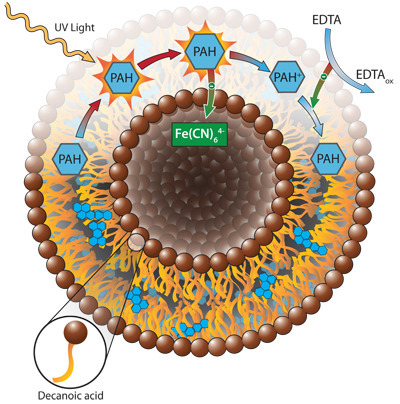 Extraterrestrial seeding gained prominence in 1969 with the fall of a meteorite (witnesses reported an exploding fireball) near the Australian village of Murchison. More than 100 kilograms of charcoal-colored fragments were collected, and early analyses revealed the presence of hydrocarbons and a number of common amino acids. Scientists have since concluded that the interiors of well-preserved fragments were unaltered by terrestrial contaminants, and many believe that the Murchison meteorite is a pristine relic from the early solar system.
Murchison (and other carbon-containing meteorites) harbored a cornucopia of complex organic molecules, including amino acids, an abundance of different fatty acids, and aromatic hydrocarbons (hydrocarbons containing at least one six-carbon-atom ring). Just last year, a team of European researchers used ultra-high-resolution mass spectrometry to uncover more than 14,000 unique molecular compositions in Murchison's organic extracts.
The wealth of the interstellar organics encouraged scientists to explore the prebiotic possibilities of meteorites. The researchers Boncella and Cape joined with former laboratory colleague Pierre-Alain Monnard, now at the University of Southern Denmark, to create and evaluate prebiotic structures made from the same organic molecules found within Murchison.
They began by fashioning primitive cell-like structures from mixtures of short-chain fatty acids, the most plentiful water-soluble organic compounds in the meteorite. The structures will form spontaneously in aqueous solutions because of the push-me-pull-you nature of the fatty acid—the "head" of the lollipop-shaped molecule mixes happily with water, the hydrocarbon tail doesn't. To shield their tails from water, a group of fatty acids will arrange themselves into double-walled, hollow vesicles, the heads forming the inner and outer wall surfaces, with the tails sandwiched between the two surfaces, sheltered from water.
The chemists found that, of the fatty acids found within Murchison, decanoic acid, with a ten carbon-atom tail, was the best vesicle former—its longer tail providing a greater hydrophobic driving force. They also found that vesicles formed more readily from messy mixtures of short-chain fatty acids than from single components, an intriguing discovery given the presumed complexity of the primordial soup.
Interestingly, the researchers showed that the tiny mixed-component vesicles—only about a hundred nanometers in diameter—are able to encapsulate large negatively charged compounds, such as the electron-grabbing ferricyanide, a common laboratory oxidant. Held in solution inside the interior vesicle volume, the compounds are effectively segregated from the external environment. This act of containment, or compartmentalization, is a key characteristic of living cells and is thought to have arisen before life itself.