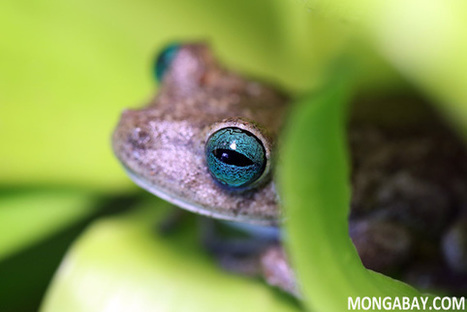 The number of amphibians described by scientists now exceeds 7,000, or roughly 3,000 more than were known just 25 years ago, report researchers in Berkeley.
David Wake, an emeritus biology professor at the University of California, this week announced the 7,000th amphibian cataloged on AmphibiaWeb, a project which 2000 has sought to document every one of Earth's living frogs, salamanders, newts, and caecilians. The 3,000 'new' species means that scientists have described a previously unknown amphibian every two-and-a-half days since 1987. And the rate of new species descriptions may be accelerating: 100 species have been described so far in 2012.
But the discoveries mask bad news: global amphibian populations are in sharp decline due to the effects of climate change, habitat destruction, pollution, invasive species, overharvesting as food and for the pet trade, and the spread of chytridiomycosis, a deadly fungal disease. The IUCN Red List estimates that more than 40 percent of amphibians are at risk, while more than 150 species are known to have gone extinct since the early 1980s.