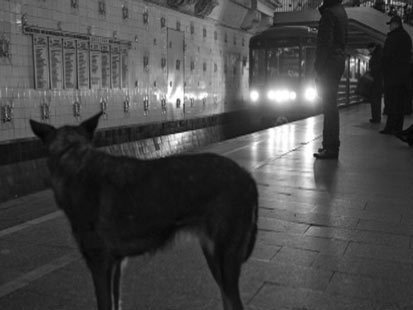 Every so often, if you ride Moscow's crowded subways, you notice that the commuters around you include a dog - a stray dog, on its own, just using the handy underground Metro to beat the traffic and get from A to B. Some of Moscow's stray dogs have figured out how to use the city's immense and complex subway system, getting on and off at their regular stops. The human commuters around them are so accustomed to it that they rarely seem to notice.
As many as 35,000 stray dogs live in Russia's capital city. They can be found everywhere, from markets to construction sites to underground passageways, scrounging for food and trying to survive. Taking the subway is just one of many tactics the strays have come up with for surviving in the manmade wilderness around them. Only a small fraction of strays have figured out how to navigate the maze that is Moscow's subway system. What's most impressive about the subway dogs, is their ability to deal with the Metro's loud noises and packed crowds, distractions that domesticated dogs often cannot handle.
Author Eugene Linden, who has been writing about animal intelligence for 40 years, says that Moscow's resourceful stray dogs are just one of what are now thousands of recorded examples of wild, feral and domesticated animals demonstrating what appears, at least, to be what humans might call flexible open-ended reasoning and conscious thought.